HAPPY HOLIDAYS AND HAPPY NEW YEAR!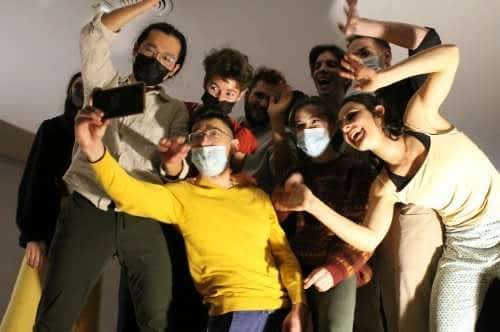 Another year is about to finish and at Moveo we would like to give you through this last mailing of 2021 the highlights of the year and wish you a great festive season!
CREATION
TRANSMISSION
We fought in order to not interrupt our Diploma Programme and were lucky to not have any confinements. We finished the school year in June presenting the shows "¡Salud, viejo mundo!" (1st year students), "Más de lo que hay, menos de lo mismo" (2nd year) and "Wacha" (3rd year). Directed or accompanied by the pedagogical team, they were presented in the theatre of La Bòbila of L'Hospitalet. The shows were a success, with three full nights. Soon the video will be available here.
In October we started a new school year with students from 10 different countries. We continue working proudly with the teachers Olivier Décriaud, Mai Rojas, Sergio Martínez, Mariantònia Salas, Cecilia Colacrai and our great coordinator Estel·la Muñiz!
As part of the project "What gesture do we need nowadays?", we shared amazing workshops with various entities and groups of different ages, cultures and backgrounds.
We continue offering intensive workshops at the centre, with companies such as Zero en Conducta, founded and directed by Julieta Gascón & José Antonio Puchades (Putxa), ex-students of the centre.
To receive the information of all our activities, register on our webpage www.moveo.cat for the Centre, and consult www.ciamoveo.cat for the Company's activity, or follow us on social networks: @centromoveo & @ciamoveo.
We hope to see you during 2022! Keep in touch and take care,
Sophie Kasser & Stéphane Lévy